New 2019 Super Turbo 1000 watt Electric Scooter 30mph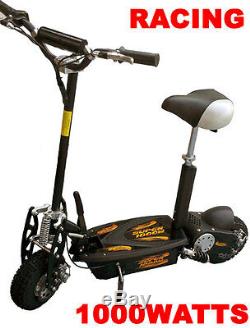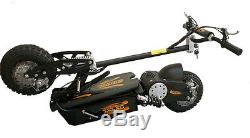 We are introducing to the USA the all new 2019 Super TURBO 1000 watt Electric Scooter. This is the world's fastest 1000 watt 36v electric scooter.
You have not experienced anything until you ridden this beast of a scooter. This scooter has the newest Turbo 1000watt motor which is 6.00" x 4.25" in Size, upgraded to 2850rpm & uses the powerful 1000watt 35amp smart control box. Our Platinum Series Deep Cell Batteries have been upgraded to 14amps each (x3). Every other scooter you see in the USA will only be 12amps each battery. We give you 6 more total amps of power.
Platinum Series Deep Cell Lead-Acid Batteries. Stainless Steel Bolts w/ Nylon Lock Nuts. High Quality Front & Rear Disc Brakes.
Huge On/Off Road 11 Tires. Improved Fuse Housing & Battery Cable Gauge. Econo / Turbo Mode Button. About the Super Turbo 1000 Watt Scooter. This amazing scooter has many new upgrades for 2019.
We install the absolute highest quality parts on all our scooters. It comes standard w/ top of the line front & rear disc brakes, chrome front mono-swing shock, dual rear adjustable shocks, solid steel frame, folds in seconds, adjustable & removable seat posts, HUGE 11 on / off road knobby tires. It includes features not found on other electric scooters such as: key switch ignition, turbo/econo button w/ battery indicator, deep cell lead acid batteries. It's the fastest 1000watt electric scooter on the market reaching speeds up to 30mph. The biggest improvements to this new 2019 electric scooter is the very powerful 1000watt motor.
This all new Platinum Deep Cell Battery Pack has increased the metal plates inside the battery to now give you 15% more miles on a charge & you can charge this battery pack now up to 600 times on average compared to 250 times with the standard 36volt battery pack. We have added the highest quality Front Chrome Mono Swing Shock as well as SOLID CHROME FRONT FORKS to this scooter. It is the top of the line front end assembly you will ever see on a scooter, which gives this scooter the smoothest most stable ride you could possibly ever have.
Please WATCH THE 2 VIDEOS below as we go over the whole scooter & give you the road test. Our company has been around for almost 2 decades. We know our electric scooters like no other company. We have every single part for our scooters in stock at all times as well as How To Install Videos for all parts if you need it. We take pride in offering very high quality scooters that we constantly upgrade if something new comes out to make it better or faster or safer. We stay one step above the competition on upgrades & nobody in the USA beats our prices as we are able to sell very high volume of these scooters & in return we take less profit.
Unlike any other dealer in the USA. Please do your research & you will see we are untouchable on quality & pricing.
Turbo-Charged 1000 Watt Scooter Specifications. Super Turbo 1000watts of raw power. Motor size is 6.0" x 4.25" Fastest 1000watt motor made.
THE HIGHEST QUALITY UL Listed 36VOLT SYSTEM. Consists of (3) 12volt 14amp Platinum Series DEEP CELL led acid batteries wired together to create a powerful 36volt battery system. BATTER LIFE on average is 600 CYCLES WITH THESE BATTERIES. 110V Smart Charger 2-color LED status indicator. 27-30mph Based on 150 lb.
Rider on a flat road. Up to 12-14 miles per charge on average (Range depends on rider's weight, speed they are driving, and terrain) Special note: Hills, Riding full speed always & Heavy Rider Weight will greatly reduce Range Per Charge. Disc / Caliper (Front & Rear). Billet Stem - 20 Race Bars. Full Suspension Chrome Mono Swing Design (Front & Rear). FOR ANY QUESTIONS AT ALL. It is not suitable for handicapped persons or persons with limited mentality or physical capacities. The product is to be used only on safe, dry, smoothly paved or hard packed surfaces, in accordance with local regulations, during daylight hours. Please remember to always wear a helmet! There are inherent dangers to using motorized scooters. Children may use products under adult supervision and under the guardian's own discretion. Check with your local authorities for area specific rules and regulations. Adult guardian assumes all responsibilities associated with the use of these products by minors. Customers understand that the use of these products can cause injury or death. To prevent it, we strongly recommend the use of the safety equipment such as helmet and knee pads. Products are not regulated by the U. Department of Transportation as motor vehicles (except the gas series in some states). Therefore, they do not necessarily comply with the Federal Motor Vehicle Safety Standards.
It is the customers' responsibility to check with their local authority since the law varies state by state. All product information is provided by a third party and is said to be true to the best of our knowledge. All product information available to us is made available to the user. Purchasers Responsibility You must inspect all equipment before using it and to take full responsibility for assuring that the equipment is in good working order and safe to use. You further understand that you are responsible for damage to equipment.
Purchaser understands the nature of motor scooter riding and motorcycle related activities and acknowledges that Purchaser is qualified to operate said motor scooter, and is in proper physical condition to participate in such activity. Purchaser agrees to assume all risks when allowing others to operate Purchaser s scooter. If Purchaser is not familiar with the nature of motor scooter riding, Purchaser should seek professional training before operating a scooter. Scooter riding activities involve the risk and danger of serious bodily injury including, but not limited to, disability, paralysis, dismemberment and death. These inherent risks and dangers may be caused by Purchasers own actions or inaction's, the actions or inaction's of others, participating or not participating in the activity, the condition in which the activity takes place, or the negligence of others.
There may be additional risks, including social and economic loss, either known or unknown to Purchaser, not readily foreseeable, and Purchaser fully accepts and assumes responsibility for all such risks, losses, costs, and damages incurred as a result of Purchasers participation in scooter riding activity. Operation, Registration, and License Purchaser is responsible for registering and operating the motor scooter in accordance with local and state laws and ordinances. Customers have read and understood the use of these products before purchasing.
This shall not act a waiver of any implied warranties which customers retain, as provided by law. We do not cover misuse or broken parts caused by the user or by any other event. The item "New 2019 Super Turbo 1000 watt Electric Scooter 30mph" is in sale since Tuesday, May 16, 2017. This item is in the category "Sporting Goods\Outdoor Sports\Scooters\Electric Scooters". The seller is "scooter_wholesales" and is located in Myrtle Beach, South Carolina. This item can be shipped to United States.
Model: 1000watt
Wattage: 1000 watts
Color: Black
MPN: 1000 watts
Brand: Super Turbo