Wholesale Maca Root Powder Organic Super Foods Bulk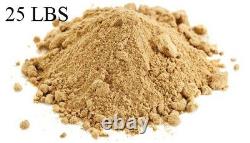 Maca Root Powder is a perfect superfood for Breakfast, Smoothies, Baking & Ice Cream. USDA Certified Organic, Non-GMO, Gluten-Free, Vegan. Is very nutritious and is a great source of several important vitamins and minerals and amino acids.
Maca root powder is packed with vitamin C, fiber, protein, calcium, iron, and antioxidants-- and its mild, nutty taste makes it a perfect addition to your favorite treats! Ingredients: 100% Organic Pure Organic Maca Powder. Certified Organic -Certified Kosher, Pareve -Vegan -Paleo-friendly -Keto-friendly -Non-GMO -Processed in a peanut-free, dairy-free, and soy-free facility.
No added sugars, no preservatives-- just raw, organic maca root powder. Just one ounce (about two tablespoons) packs over 100% of your daily value of vitamin C and 45% of your daily value of fiber.
It's also a vegan's dream: a serving provides 11 grams of protein 20 amino acids, including 8 of the 9 essential ones! And 25% each of your daily value of calcium and iron for strong bones and blood flow. Maca root is chock-full of antioxidants, like disease-fighting polyphenols and mood-boosting flavonoids.
It also helps relieve menopause symptoms and is a natural adaptogen-- that is, it helps the body adjust to stress in a healthy way. A spoonful of maca powder adds a nutty, earthy flavor to smoothies, pancakes, ice cream, baked and raw treats, and more! HOW TO USE: A Peruvian super-root used to bolster energy and vitality, Maca was revered for centuries by ancient Inca warriors. Maca powder gives a nice nutty flavor, and can be used to enhance a variety of recipes including smoothies, baked goods and savory items. This delectable superfood will enhance the taste and flavor of any modern-day recipe, while increasing the nutritional value of your meals.